For over 15 years Honeey Mustard has played for the masses. Pure techno has been Honeey's obsession for most of her journey. This music can be described as complex yet clean and deep hypnotic tribal rhythms.
HYPNOTIC-TRIBAL-RAW-PUMPIN-PURE-DEEP TECHNO.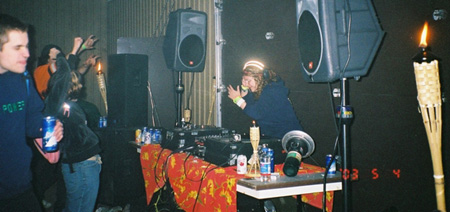 It all began at the age of 11 when Elaine started collecting records and making mix tapes of her favorite music for herself and friends. Inspired by her interest in the entertainment industry she decided at 17 years old to venture in this direction. With projects including producing and hosting her own local cable TV show about the dance scene in Calgary which brought Elaine into the Calgary club scene to interview musicians and DJs (the true pioneers of the scene), and becoming the regular light technician and dj assistant at Calgary's upscale dance club called The Banke which had crowds of over 800 people on the weekends.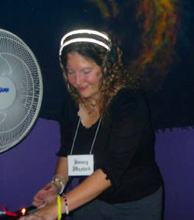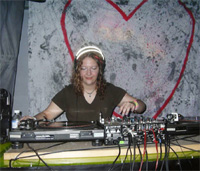 She was fascinated by the way the dj and music could move a crowd and began to practice the craft eventually getting a job as a full-time resident at another busy dance club nearby later she became the resident dj at The Banke and in 1990 she decided to start experimenting with the more underground vinyl after she was exposed to some raves and underground djs.
Her interest grew in the rave scene and she started throwing parties as one half of Honeey N Nutty Ink with partner Ardattack playing techno and deep jazzy house as Honeey but there was always this even harder side wanting to get out so Honeey put away her house records and in 1993 became a full fledged techno dj as Honeey Mustard and has never looked back some have dubbed her as a techno master taking listeners and dancers on a roller coaster ride of hypnotic beats sometimes dark, sometimes deep, sometimes intensely tribal, but always pumpin and always techno with her dj sets and live PA's of her own productions.
Elaine is a techno purest and will continue to be so, she is a regular at clubs and parties around Canada and globally.
"I love techno because it has limitless possibilities for mixing. It's many moods and hypnotic rhythms are familiar and holistic like the sound of a heartbeat."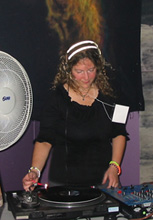 Honeey Mustard feels that techno goes to a deeper level in the individual and promotes a higher form of self-expression on the dance floor and listening environments. Elaine is now producing techno and ambient and playing live PA sets of both generas regularly.
Ableton Live Ambient set mp3 soon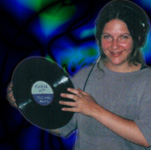 Ableton Live Techno set mp3 soon

Elaine is a professional artist and graphic artist
you can see her show artwork here
you can see some of her graphic design work here